Weekly Chore Chart for Kids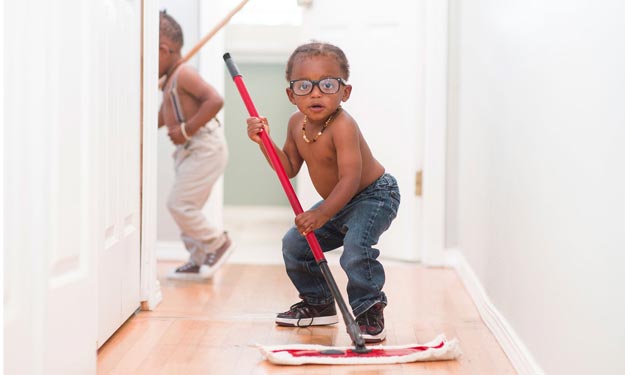 Weekly Chore Chart for Kids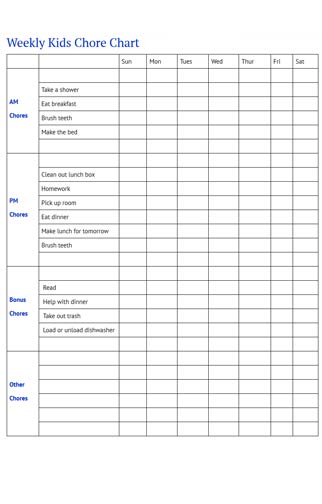 This is a simple list of items in a weekly chore chart for elementary school aged children.
Using a chore chart is a great way to help your children learn about responsibility and create good habits.
Your kids will know what they need to do at a glance. They can also see what will have to be done in the future helping with planning and time management.
How the Chore Chart Works
Uses AM and PM time frames to designate chore times.
"Bonus Chore" could be anything out of the ordinary or an increase in level of difficulty with an additional reward attached.
The "Other" section is for you to add additional items that suit your family situation. It could be something like wrapping presents for a birthday or painting Easter eggs.
Just remember your kids are kids. Don't insist on things being perfect and if you aren't particularly happy about the way something was done – don't go behind them and fix it and don't step in to do something for them.
Be consistent with chore days and also give praise during a chore and let them know what a good job they are doing.
The way this chart is organized can give you a different angle on designating tasks that is creative, easily explainable and a fun learning tool.
How to Use the Chore Chart
Print the chore chart out.
Hang it on the refrigerator or pin it to a bulletin board.
The kids check off each item when they are done.
Take the kids out for ice cream or pizza to celebrate the completion the chores during the week.
Download this Weekly Chore Chart for Kids in Excel format. You can modify and edit this further for your specific aims and goals after you have downloaded it.