Free Kids Cleaning Chore List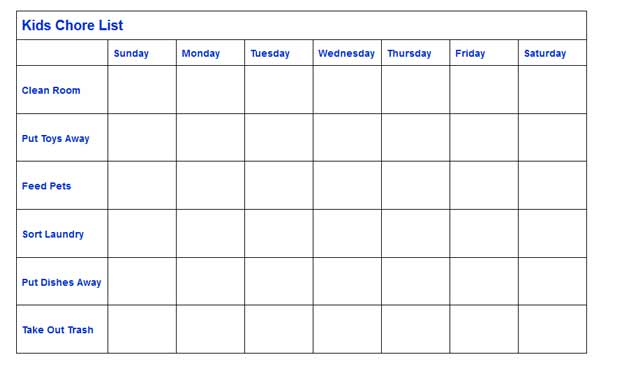 Free Kids Cleaning Chore List
Here is a free handy chore list for young children.
The chores we have listed are easy starters to help your kids get inspired to learn responsibility and maybe have some fun doing it.
How to use this Kids Cleaning Chore List
Chores are listed in rows the days are in columns.
Draw an x in the chore row under the day it should be completed by.
Your child then looks at the chart and knows they have to clean their room on Wednesday.
How to Make the Chore List Fun
You can let your child pick the chore
Let your child set the day
When your child has completed a chore, they can color in the square or place a star sticker or something similar in the square.
When your child completes their chores they feel a sense of accomplishment for doing something without having to be told.
This Chore Chart is available for download in Word format and is totally customizable.
Download this Kids Chore List in Word format.