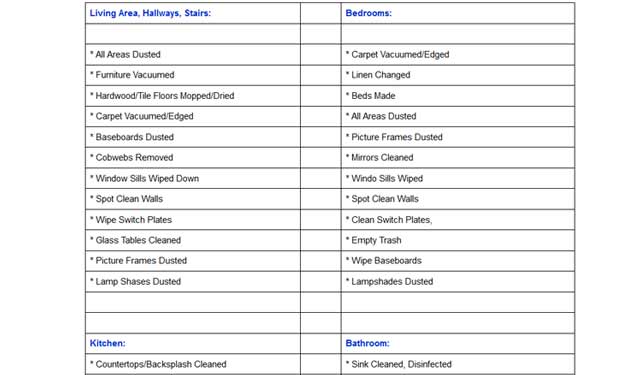 House Cleaning Check List
Nooks, crannies, edges and spiderwebs.
Cleaning is a chore, but with this checklist and our tips, it will help make your job easier as you go along tackling your cleaning tasks.
Cleaning Tips
Stay focused and on the task you're doing so you don't have to backtrack. Make every move count to complete cleaning quickly.
When you enter a room, start cleaning at the top then work to the bottom.
Work from the back to the front and left to right as you are moving your way around a room.
Clean only one area at a time, and clean the area thoroughly to avoid backtracking.
Use a bucket or basket to carry your cleaning supplies with you. Now you won't have to stop what you are doing to go find the right cleaning product.
You should always do the dusting first then do the vacuuming. Begin your dusting from the highest place in the room such as the shelves and top of the cabinets, moving further and further lower as you move along. The dust you have disturbed will settle on the floor, where you can easily vacuum it away. Dusting with a damp rag vs a feather duster will pick up more dust on the cleaning rag and keep it from becoming airborne.
This house cleaning checklist will assist you in getting the job done efficiently.
Download this free House Cleaning Checklist in Word format.
Getting the Kids Outside for Activities can Help Develop Learning Abilities and Encourage Creativity.Fun Outdoor Activities for Your Kids Spring, Summer, Fall or Winter. Scheduling outdoor time with the kids is a great opportunity to get out...