Cleaning Tarnish, Corrosion and Polishing Silver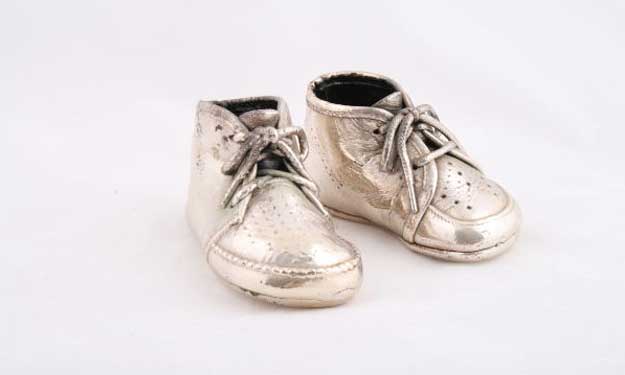 Cleaning Tarnish, Corrosion and Polishing Silver
When your silver jewelry, utensils, and other house ware items start to tarnish, you naturally want to clean them – or at least I do.
And when the time does come to clean them, did you know you don't have to use synthetic cleaners to remove the tarnish? Certain types of these cleaners not only remove tarnish but overtime they can strip the silver off as well. They can also be dangerous to the environment and your health.
So let's avoid the environment and health issues and use a natural process to clean silver. Most of the cleaning solutions we list below contain ingredients you most likely have in the house already.
If you frequently use your silver the hand rubbing that occurs will add beauty to the patina of the piece.
So follow me down the page and let's learn about naturally cleaning your silver.
Removing Tarnish
Using washing soda is a good method of cleaning silver pieces that are not hollow. This method can be used to clean a silver item that is lightly tarnished; not the thick black tarnish that is corrosion.
Start by placing a quart of hot water in a large glass bowl. Add a tablespoon of washing soda and a tablespoon of salt. Stir to allow the soda and salt to completely dissolve. Then take a sheet of aluminum foil and place it in the bottom of the bowl.
It's then as simple as placing the lightly tarnished silver in the solution. Make sure it is sitting or touching the aluminum foil and let sit for 15 to 20 seconds.
If your silver is a little more tarnished than you thought, use this same method and let the items sit for a few hours. Then rinse under clean, warm water before polishing and drying.
Cleaning Corrosion from Silver
Corrosion, which is a dark color, can be caused by moist or damp situations like from humidity or just storing your silver in the garage. Corrosion is a more serious problem than just light tarnish.
Although ammonia won't improve upon the smell of commercial silver cleaning products, it's still an inexpensive and strong way of cleaning corrosion from silver. The most important thing to remember is that ammonia must be well diluted or it will ruin the silver. You should also work in a well-ventilated area and wear gloves, such as in an open garage as ammonia can produce noxious fumes.
Homemade Silver Cleaner
Combine 1/4 cup of water
2 teaspoons liquid dish soap
1 teaspoon ammonia
Mix well
Dip a cotton swab into the solution for small items, or a clean cloth for larger items, and rub on the silver.
If this doesn't work, make a large enough batch to soak your silver in the solution. Let it soak for 10 minute intervals up to 30 minutes, then immediately rinse with warm water before scrubbing. Then polish and dry with a clean cloth.
If this process does not work well enough, and your silver is highly corroded, you may have to have a professional clean your silver piece.
Polishing Silver Naturally
To polish your silver add a few drops mineral oil to a soft cloth. Easy!
The beautiful shine that this creates can get your silver up to snuff and it is not harmful to the hand or environment.
Alternative Quick and Easy Cleaning Method
White vinegar is another inexpensive and quick way of polishing silver without breaking out the harsh chemicals.
For smaller items:
dissolve one teaspoon of salt into one cup of vinegar.
Then, use 1/4 cup of flour to make a paste out of the solution.
For larger items, such as bowls and trays, use the same proportion:
three cups vinegar
three teaspoons of salt
3/4 cup of flour
After you've made the paste:
spread it on the silver and let it sit for 15 to 20 minutes.
Then remove the paste with a clean cloth and warm water.
Polish and dry the silver with another clean, soft cloth.
If the silver still looks tarnished, repeat the process.
Addressing Specific Pieces or Problems:
Cleaning Silver Flatware
To wash flatware, hand wash using a phosphate free and unscented detergent. There are many available on the market.
To avoid spotting, dry when finished with a soft cloth. Buffing and shining as you go.
Cleaning a Silver Coffeepot or Teapot
To reach inside the coffee or teapot, wrap a damp soft cloth around your dish sponge with handle and secure it with a rubber band – or use anything that is small enough to fit through the opening.
Then apply a fair amount of Silver Cream to the cloth. Start wiping the stain until clean. Rinse with warm water and dry with a clean soft cloth.
Now you can apply the same technique to the outside of your silver.
Removing Adhesive from Silver
I get why they have to have store labels that stick to an item, but I just hate it when I have to work at removing the adhesive that's left behind.
To remove adhesive from a silver piece, use a little Goo Gone on a soft cloth to get rid of the sticky left overs.
Using these readily-available products turns cleaning silver from a chore to a bit of scientific fun.
Caring for Silver
It is important to note the professionals advise against washing silver in the dishwasher as the detergent can cause the silver to whiten. It can also cause the blade from a hollow handled knife to launch out of the handle.
Give yourself time when cleaning silver to avoid damaging fragile parts.
Salt, if allowed to sit, is corrosive to silver. If are using a salt shaker for a party, empty the shaker and clean the silver thoroughly before putting away.
For best results, silver should be stored in a tarnish resistant cloth.
Silver plates, bowls, pitchers and one of kind pieces can make any table beautiful and they are fun to use.
Hopefully following some of these tips can give some shine back to your silver without too much cost to you or the environment.