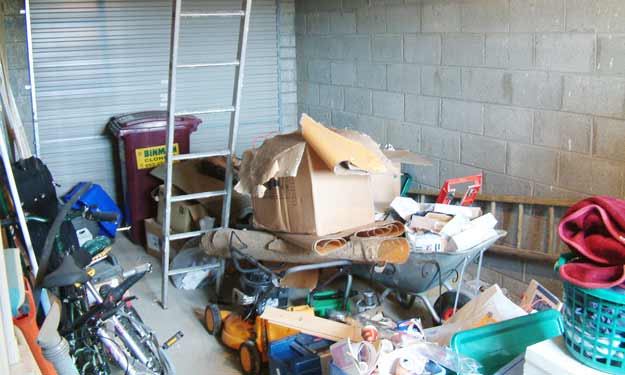 How to Organize the Garage
One thing that Americans all have in common is that all of our miscellaneous junk ends up in the garage and eventually our expensive car sits out in the driveway.
Garage organizing is not one of our general strong suits, but taking the time for some garage cleaning and organizing will prove to be an investment in time and money for us in our everyday life.
Set aside a specific day for it or it just won't get started. We all like to procrastinate on this task, but you can get the whole family involved and it could prove to be a good day!
Be smart, too, and if you know you have an overstuffed garage – plan a garage sale the next day so you can get rid of some of that clutter. You might be surprised at the money you bring in too. Remember one man's junk is another man's treasure!
Depending on how long it has been since you've cleaned and organized will indicate how to go about this. If your garage is stacked to the ceiling, front to back, with boxes and other stuff, you might need to take the whole weekend to work on this. If that is the case, instead of taking everything out in order to clean the floor, you will just take half. We don't want you leaving everything out overnight, so that's up to you.
How To Organize Your Garage
Garage Organizing Tips
Take everything out of the garage and move several feet away from the door.
Sweep and hose out, using heavy-duty soap if needed, and get the floor clean again.
Store bicycles away from traffic, with hooks on the wall, or hanging from the ceiling. Create a crate or a shelf right next to them so that the children know where to put their helmets, bottles, etc.
Keep all athletic equipment in the same area. Sporting good stores have racks for everything, or you can simply make shelves and provide hooks for everything. A place for everything and everything in its place.
Stackable plastic boxes or crates can be used for tools, toys, car parts and if you use the clear ones you will be able to see exactly what's inside without out opening the lid.
Inexpensive rain gutters makes convenient storage and they comes in vinyl or aluminum. Cut the length you need and use screws to mount them to the wall. These are great for just about everything you can think of.
Hang tools on wall or provide shelving for them. Every hardware store has containers with many compartments for nails, screws, washers, etc. This is a good investment.
Keep all car washing items in one box or on one shelf.
Create a hook for the hose to be wound up and hung on after use.
For balls and bats and miscellaneous toys, designate a crate for that.
Last step is to evaluate lighting in the garage and right outside the doors. Motion lighting is very reasonable now-a-days and low voltage lighting on a timer will provide the area with inexpensive lighting which will add security to your home.
Organizing – It's a Family Affair
Now everything that is going back into the garage has a place. Now it's time to call other members of the family and go through what is out in the driveway and decide where it goes.
If you have enough for a garage sale wouldn't it be fun to get together with a neighbor or even the whole neighborhood and hold a neighborhood sale!
If you have decided to do that, this will help you eliminate the rest of the clutter. Get the whole family in on it. Have them clean out their rooms for stuff to donate to the sale. Choose the days and price your items the day before. The morning of the sale everything will be ready to go!
Now you have a plan for garage organizing and a system of keeping it that way. Next time it shouldn't be so difficult, if you have kept it up. Best of all, your vehicle might actually find its rightful space in the garage and all your stuff will be up and out of the way to walk to it.
Good Luck with your garage organizing!
Ideas for Cleaning and Organizing During Isolation. How to Make Your Home Clean and Organized During Self-Isolation Most of us know that organizing is one of those household tasks that is not always at the top...