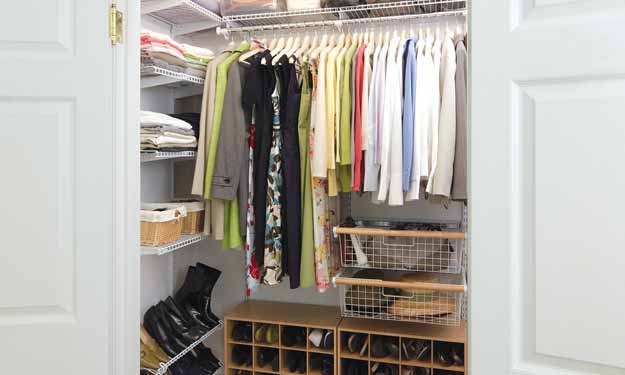 Organizing – One Closet at a Time
Have you had ideas (or dreams!) of cleaning and organizing your closet lately?
Almost everyone wants to- but at some point or another, the mess, the chaos, the utter confusion can only go on so long before your eyes and your head start spinning!
The benefits of having a closet that is organized are many: better use of space, you can actually get to your things, and the biggest benefit is you are no longer irritable – Ah, a new beginning.
If you are ready to get started cluttering your closet, here are a few things to remember:
Don't cringe at the thought of opening the closet door because you're afraid a pile of stuff might fall on you. Just quickly open the door and step out of the way. You may end up elbow deep in stuff but it's a quick way to empty the closet. Not really! I'm sure it's not that bad.
Don't play the blame game if you share your closet space with a significant other or brother or sister. It does take two to tango you know. Both of you can work together to get it all cleaned up.
Don't worry about your organizing project having to take up the whole day- or longer. It doesn't have to. Think about doing one closet at a time, one shelf at a time, one room at a time… Whatever works best for you.
Your ultimate goal is to work through each closet in the house, getting them decluttered, cleaned up and organized, and then best of all maintaining them so they stay that way.
I did a thorough cleaning to most of my closets not too long ago and I felt a heaviness leave that I really didn't know was there. And this is something I do at least once a year!
Things accumulate then one day you open your eyes and see it as if for the first time. It's like – Where did this all come from? The clothes, the purses, and all those shoes!
Believe me, I felt like a new person when I was finished organizing my closets, I had to stand back and give myself a good pat on the back, then I went to the mall and bought myself a new purse for good measure!
Are you ready then? Let's get busy organizing your closets!
Assesses Your Available Closet Space
Assess the closet space you have available. Have a note pad and specify what the main objective is for a closet and how you can best use it. Also write down the materials you will need to make your closet space more organized.
Find Extra Space Around the House
If your closets are small, consider your entire home and determine if you have extra storage space, watching for just about any unused area where items can be easily stored, such as underneath the beds, under the sofa, a chest, an ottoman, desk drawers, etc.
Even an empty wall can serve your storage purpose needs with a little weekend DIY shelving.
Get the Materials You Need
Now that you've gone through the closets and any other space around the house you can use as storage, it's time for shopping. This is actually fun because you can get as innovative as you like.
Some ideas for storage and organizational needs are:
Hangers and Hooks – There are hangers for pants, shirts, ties, and hooks can be used for a bathrobe, pajamas, purses, belts, scarfs, etc.
Containers – I love the variety of containers on the market today. There are metal containers, plastic, 1 foot by 1 foot square crates, baskets, under the bed storage containers, and more. These work great for kid's toys, shoes, games, t-shirts, purses, and much, much, more.
Some of the containers will be stacked so don't forget the lids.
Shelving or Closet Organizers – If you have the space, think about adding some shelving or closet organizers to your closet space. A nice touch for shelving is to add shelving paper, it's easy to clean and adds a layer of protection to clothing items.
Behind the Door Storage – These can be used for shoes, toys, photos, makeup, jewelry, etc.
If all bedroom closets are the same size (with exception to the master bedroom) the plan you choose for one can be standard for them all, regardless of what's inside.
Focus on a Single Closet and Get to Work
Starting with a single closet is easier and less stressful, this way you don't get so overwhelmed and want to quit the task before you've even started.
It's also a good way to set the pace for the other closets you'll be organizing. After the first one, you'll have a good idea of how long it will take and the supplies you'll need to make it better organized.
Set the Date and the Time
Have a particular day set aside ahead of time to work on each closet. If you commit beforehand there's no excuse to not do it. Put it on the calendar and have someone hold you accountable.
Go through Your Closets Using the 5 Stack Method
This is simply 5 stacks or piles you need to make while cleaning out the closet. Start at the top of the closet and work your way down, cleaning the shelves and walls when you're done and vacuum the floor.
Begin by taking everything from the closet and arrange it in the following piles:
Garbage: damaged and useless items will end up in the trash. Simply no questions.
2 year rule: if you have not used it in 2 years, get rid of it. You can easily give away items to friends or donate things that are in good repair. Damaged items can go in the garbage pile.
Needs cleaning: clothes, blankets, whatever you would utilize if it was clean.
Things that should or could be someplace else: If you're sorting through the linen closet and find a shoe, put it in a pile that you'll put away; in the proper place, later. Are you storing Christmas and other Holiday decorations in various closets? Why not store them on a shelf in the garage since they aren't accessed often.
Things that are supposed to be in the closet: This pile ought to be considerably less when you're done.
If you have decided to use shelving or purchase closet organizers, now is the time to add this to you clean closet space.
Putting Items Back in a Closet
After you have sorted and made your piles, discard the trash, bag up items for donation, and, if necessary, get a load of clothes going in the wash.
Now you can put everything back in whatever new fashion you have planned for the closet you are working on – organize it in a much better way.
Clothes Closets
One idea when hanging clothes you're keeping back in the closet is to sort according to type. By that I mean put all shirts, work pants and jackets, dresses and skirts, jeans, and t-shirts together.
You can even take it a step further and arrange within these groupings by color.
Kitchen Closets
If you cook a lot and have many spices currently sitting on a shelf, think about hanging a spice rack behind the door of the pantry closet. You can arrange these in a very manageable manner and you've also freed up a shelf!
When you have finished organizing the closet, don't forget to put those miscellaneous items that belong somewhere else away.
Potential Hang-ups- Hidden Clutter and Chaos!
The Linen Closet
The linen closet can end up being a catch all for so many things around the house just because there's usually a little extra space. Does yours hold not just linens but extra towels, pillows, blankets, toilet paper, personal care products, crafts, etc.?
Could some of those items go in the bathroom closet, on a bathroom shelf, under the bathroom sink? Do you have a closet in the office where you can utilize a shelf for craft supplies?
Ultimately, do all of the items in the linen closet belong there, and if not- can you put some of these things where it makes more sense that they be located.
One of the things I have in each of the bedrooms in my home is that each room has a storage chest. They come in a variety of colors, styles and sizes. They are great for storing room specific items such as linens, extra pillow and blankets, etc.
Organizing your closets won't just save you time in the long run, it will save you from getting stressed out and frustrated as well.
Ideas for Cleaning and Organizing During Isolation. How to Make Your Home Clean and Organized During Self-Isolation Most of us know that organizing is one of those household tasks that is not always at the top...