Best Organizing Solutions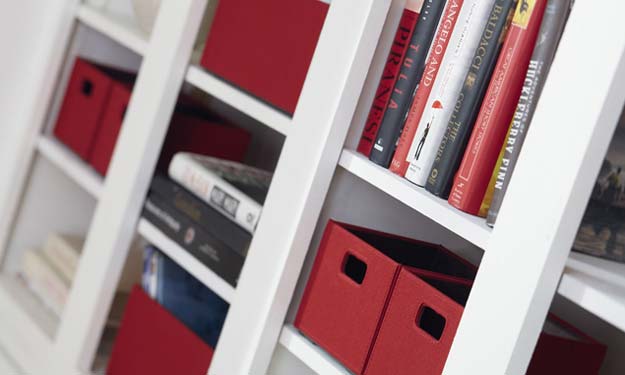 How To Organize More Effectively
Is the disorganized state of your home making you feel miserable?
Maybe you're not much of an organizing junkie and in spite of your best intentions; you've failed to find an organizing solution that works for you.
You've looked through magazines for ideas and gone as far as clipping coupons for storage options. Then you get sidetracked and you've now added a mess of papers to the living room floor.
You try and get organized (and your unorganized mess isn't even that bad), but for some reason you're always behind the 8-ball in that department. There's always a distraction pulling you away.
Don't feel bad, I think we've all been there at one time or another, some worse than others. The mess, no matter how small, is sometimes easier when you don't deal with it at all.
The problem with that – the small mess will only turn into a bigger mess. I know deep down all you really want to do is find an easy way to help you get organized.
So come on – let's take a look at some.
Organizing Requires Practice, Patience and Parting
It's important you understand the basic principle of the best organizing solution concept. "Purge the unwanted, unnecessary and unneeded."
If one organizational technique doesn't work, try another, don't give up, you will find what works best for you.
One of the basic and best ways to organize your home is to reduce clutter. That often means eliminating unnecessary possessions. It also means going room by room, including the garage, taking a good, honest look at what you have and parting with what you don't need.
When you go through rooms, you'll need garbage bags for trash and boxes or something similar for things you will keep and things you will be parting with. Be patient with yourself and others that may be helping; once you've gone through one room you'll begin to get a rhythm going, making the other rooms easier to go through.
Now you can clean and organize what's left and enjoy the clean, uncluttered appearance of your happy habitat.
When you've finished with all rooms, the items you're not keeping can be donated or you could have a garage sale.
Tips for Getting Organized
Keep in mind that if you strive for perfection in your first attempt, you may be disappointed. Your home might not look like a photo shoot page out of a home decor magazine but it's on the way.
First, read and understand this: The solution to end clutter and stay organized hasn't worked. The project you've been working towards keeps failing because the thought was to organize in a single attempt.
We mention how organizing takes practice and patience – it also takes time, planning, goals, and prioritizing.
Don't let this discourage you though; at least you're still thinking about getting organized and looking for options.
Besides what I've already gone over above, here are some tips to keep in mind:
Make lists of things to be done in each room.
Don't procrastinate: set a date, time and how long you'll spend in each area, then do it.
Don't let interruptions lead you astray, be determined and stay on track.
If you're a project oriented person, finish or put away before starting a new one.
Put things where they belong when you're finished with them.
Work in Stages
Plan your organizing solution in stages. Put pencil to paper and make a list of ideas that might help you organize specific spaces in your home or office.
Work on the Most Used Rooms First
Consider which room is the most important in your home. Generally, it's the room where you entertain guests the most and can include the living room, the dining room, kitchen, home office, etc.
Living Room
Concentrate on the living room first. Grab a box and go through the room, picking up all papers, movies, remotes, kids' toys or what-have-you's and things that don't belong. Don't forget to look at shelves, side tables and mantles for items that absentmindedly get set down.
Toss what's garbage and bring the rest to where they go.
Then a good dusting, fluffing of pillows and cushions then vacuuming generally takes care of the appearance.
Dining Room
Move on to the dining room next and check the tables and chairs for items that don't belong on them. Such as:
Old newspapers
Mail
Files that belong in the office
Dirty glasses and dishes
Clothes draped over the backs of chairs
Pick it all up, dispose of the papers that are not needed and put the rest where they belong, take dishes to the kitchen and put clothes and other items where they belong.
Vacuum floors, upholstered chairs, dust and clean the tabletop and any other furniture in the room.
Kitchen
The kitchen is often the most cluttered room in the house and sometimes the busiest. Just about anything can get left on counters, tables, chairs and takes the longest to achieve complete organizational success.
Home Office
Sort through the papers and organize in piles by bill, subject, etc. Make folders for your bills, receipts, insurance papers, etc. and throw away expired magazines and junk mail.
Dust shelves and lamps, clean the desktop and vacuum.
Other Rooms in the House
After you've cleaned and organized the most used rooms, then concentrate on the other rooms in your home – organizing your home office or den, the bathrooms and the bedrooms.
Don't overlook organizing closets. You may find a lot of extra storage space by reorganizing and disposing of unused and unwanted items.
Finding the Best Organizing Solutions for You
Finding the best organizing solution for you and then getting it implemented is a daily commitment.
I will say that once you do get organized, the daily pick up and put away and keeping yourself organized takes no time at all.
When you've finished picking up and cleaning, think about what organizing solutions you can implement to improve your organizational skills? Below are some typical and not so typical options.
Reuse Egg Cartons
I love this solution for storing items in my junk drawer. I have 12 little places for rubber bands, tacks, paper clips, jewelry, change, loose nails and the underside of the egg carton lid can be used for scissors, pens and pencils.
These actually last quite a while before they need to be replaced with a new one.
Make Your Own Lazy Susan
You can get so creative with this idea for a two-tiered Lazy Susan type stand for any room in the house. Depending on your style – glue a larger plate as the base to something like an old wooden spool (which is what I did) and glue a smaller plate to the top of the spool.
Viola, your own personal style for storing makeup, jewelry, peanuts and goodies – whatever fits.
File boxes or a Filing Cabinet
Depending on how large the home office area is, you may opt for a file box or a filing cabinet to organize your personal financial records, or important office papers.
Shoe Organizer
If you have kids (or not) a behind the door shoe organizer works great in their room or behind a closet door in the family room.
Easily hide away crayons and other artist tools, cards, cars, toys, etc. For those who don't have kids, the shoe organizer can be used for – dare I say – Shoes! It can also be used to hold pictures and office supplies.
Ottoman
I talk about this one all the time. I can't say enough about them and the amount of storage they hold. An ottoman with storage is great for books, games, toys, movies and so much more.
These come in a variety of sizes, shapes, colors and how much they cost.
Under Stair Storage
I don't have stairs like this in my home, but I hope my next house does. A friend of mine had a house built and under the stairs leading to the upstairs, she had drawers built in. I've seen pictures and love the idea – no more covering up wasted space – make use of it!
Closet Space
Research different styles of storage systems, they range from complete custom closet designs to shelving and special storage units.
As your possessions change or increase, you may have to devise new methods of keeping your things organized.
How Do Others Organize Their Space?
Whenever you hear other people talking about an organizing solution that worked for them, take mental notes because their method might just be the answer you're looking for.
Of course, some solutions might be expensive and out of your budget so work with the tools you have and get creative.
Perfections demands time, commitment, perseverance, and patience.
Get Your Family Involved!
If there are others in the house that contribute to a mess; organizing is not just your problem. Everyone can get involved in the cleaning, planning and upkeep process.
It's also important to remember, you're not alone, there are so many people looking for ways and help to get organized.
Don't give up, keep moving forward!