Cleaning Windows and Making Your Own Glass Cleaner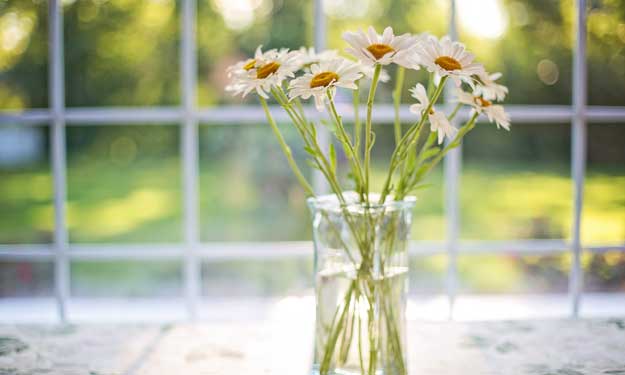 Cleaning Interior and Exterior Windows
It's only natural that we want clean streak free windows. Spotless and streak free windows allows more light into the house and if you have large windows, it can make you feel like the outdoors is in.
Some of you may already know this – but white vinegar is a powerhouse cleaner and can be used to clean a variety of things around the house – windows included.
Vinegar is completely natural compared to window cleaners you buy in the store, so let's ditch the chemicals for a more economic and natural approach to cleaning windows.
Window Cleaning Recipes
If you haven't cleaned your windows for a while or if you have consistently been using a store bought brand of window cleaner, you will want to first clean with a stronger vinegar solution to remove residue from the glass.
Heavy Duty Window Cleaner Recipe
In a spray bottle mix together 1 cup warm water, 1 1/2 cups white vinegar and about 1/4 teaspoon liquid dish soap. Gently give the bottle a shake to mix together.
Some windows that have been cleaned regularly with store bought cleaners leave a film behind and the vinegar will help remove that. Don't be surprised if you see streaks, just clean it again until the old solution is gone.
Regular Window Cleaner Recipe
After you have washed the windows the initial time with the heavy duty window cleaner recipe you can switch to this recipe. It's super simple.
In a spray bottle mix together equal parts vinegar to water. That's it.
Cleaning Windows
Choose a time when the sun is not at its peak. The heat will dry the windows before you've even had a chance to clean them and spots and streaks will happen.
Exterior Glass
Take a soft bristled brush and lightly brush the glass and frame of dirt, cobwebs and any other debris.
Rinse windows with the hose and use a sponge to wipe any remaining dirt away.
Next use the cleaning solution and wet the window (try not to get the solution on the frame).
Using a squeegee, start at the upper corner and draw the squeegee down the window. Clean the squeegee blade with a rag after each stroke.
Return to the top and overlap the first stroke and repeat this until the glass is clean.
Wipe the frame when finished.
Interior Glass
Interior glass will be cleaned in the same manner as the exterior glass (just don't use the hose to spray them down). Instead of a soft bristled brush, use a lint free cloth to run over the windows before cleaning them. Be sure to place a towel on the window ledge so no solution gets on the painted surface.
Tip: When drying the glass with the squeegee, on the exterior glass work up and down and on the interior glass squeegee side to side (or vice versa). This way you can see if there is any streaking going on.
Cleaning Window Frames
Many window frames are not only made of a delicate aluminum but are also painted, making cleaning even more of an issue. Window frames seem to pick up some of the most difficult to clean dust. Grease, sticky pollen and bugs are especially attracted to window frames. Always use a mild non-abrasive cleaner with a soft cloth as to not damage the paint or the aluminum.