Cleaning Outdoor Wicker Furniture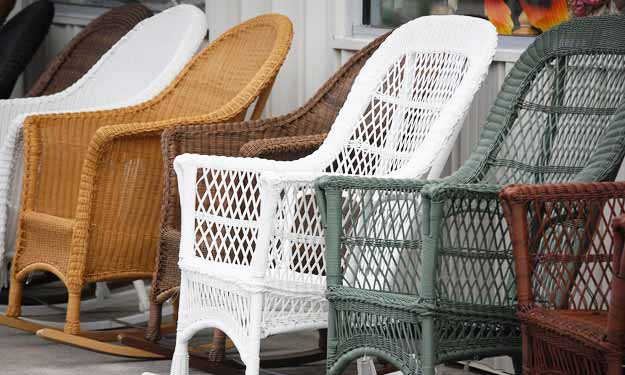 How to Clean Outdoor Wicker Furniture
Many people are surprised when they find out that wicker isn't a material, but rather a weaving process.
Wicker items can be made up of many different materials, such as bamboo or resin (which resembles plastic). However, the most common material used to weave your wicker furniture is rattan since it is highly durable.
Rattan is both a creeping and a crawling plant, as the vines spread over the jungle floor and then climb up high into the trees.
Once you begin to appreciate the amount of time and effort it takes to weave your wicker furniture, you might be a little hesitant about cleaning it or perhaps have tried to and given up all together.
The thought of cleaning between all of the nooks and crannies might seem daunting, but it's actually very easy and takes hardly any time at all.
When it comes to cleaning wicker, an ounce of prevention is worth a pound of cure. Dingy looking wicker will be a thing of the past if you follow my easy and effective cleaning tips.
Let's get busy cleaning!
Wicker Maintenance Tips
Wicker requires maintenance and upkeep to stay in tip-top shape. Regular cleaning (use a broom!) to remove debris before it has a chance to work into the cracks and crevices in between the weave of the furniture.
Keep your outdoor wicker furniture covered with a tarp while not in use, and move it indoors for the winter if moisture is a problem in your area.
It is recommended to dust your wicker furniture regularly. It will make cleaning much easier and extend the life of your wicker because dust will build up and make the wicker feel almost sticky.
You can remove dust easily by wiping the wicker with a slightly damp cloth.
Removing Dirt and Grime
When wicker has been neglected for a while, you will need to spend a bit more time in order to get the item clean.
Take care not to allow the wicker to become soaked with water as this can cause warping.
1. First, remove the dirt. Vacuuming between the cracks and crevices with a soft brush attachment should do the trick. If not, try using tweezers or a dry paint brush to get to the places your vacuum can't.
2. Once the dirt and grime is removed from your wicker, dip a stiff bristled toothbrush into a bucket of soapy water and begin to brush the wicker.
3. As you extract any leftover dirt from the cracks, wipe it away with a sponge or cloth.
Removing Mold and Mildew
Humidity and rain can cause mold and mildew.
If you need to remove mold or mildew, try a solution of bleach and water. Mix at a ratio of 50/50 and wipe down with a sponge or use a toothbrush as needed to remove the mildew.
Keep in mind that if mold and mildew cover large areas of your wicker furniture, you may need to treat it several times before it is fully removed.
Make sure to rinse your furniture thoroughly with fresh clean water to remove all traces of bleach. Run a dry towel over the surface to remove remaining traces of water.
Removing Stains on Wicker
Removing stains from your wicker can be quite a challenge. Try using the same bleach solution that I recommended for mold and mildew.
If that doesn't work to remove the stain, another option is to spray paint the wicker. Start with a primer to cover up the stains and then use a spray paint in the color of your choice.
To keep wicker looking its best, cleaning should be done on a regular basis. A few moments spent cleaning can greatly increase the life and beauty of your wicker furniture.
Cleaning Furniture Made of Microfiber.How to Clean Upholstered Microfiber Furniture Microfiber is a popular choice among many homeowners when it comes to furniture. I think it's because microfiber looks luxurious and is just begging to be lounged...