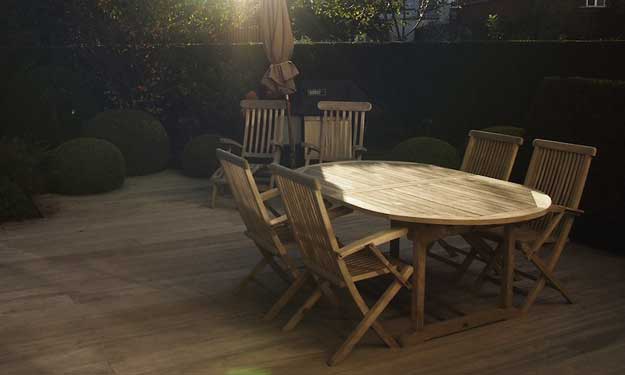 How To Clean and Maintain Teak
Tectona grandis, better known as the teak tree, is native to South East Asia. If you have done any research on indoor and outdoor wood furniture, you may have noticed that those made out of teak are extremely expensive compared to other types.
Teak is expensive because it is one of the most sought after woods in the world. The demand for teak furniture as well as other objects made from the teak tree is extremely high, yet the supply of this beautiful wood has been steadily decreasing over the years.
Now that you know why teak wood is so expensive, let me explain to you why you should invest in furniture made from it, and how to clean any teak furniture you may have.
Teak is a Superior Wood
Despite its obvious beauty, the teak tree is known for being extremely durable, even in the most extreme weather. This is especially true when you own furniture made from the heartwood of a teak tree, compared to the sapwood.
Teak contains natural oils that repel water and insects and is impervious to decay. With that in mind, it's obvious why teak furnitue is in such a favorable choice!
Even though teak wood is very high quality and contains natural oils, your furniture will sometimes need to be cleaned. Cleaning and oiling your teak will bring out its unique characteristics and restore it to it natural state.
It is an important process and is well worth the time because it will protect your furniture and to help the item to last longer.
Prior to Cleaning
Before cleaning your teak furniture, consider the following:
First, check the owner's manual, if your teak furniture came with one. Some teak furniture requires a specific process of cleaning to maintain it properly.
If allowed to weather, teak will have a silvery gray color to it, which is what many people are striving for with their outdoor furniture. If you want this, allow the product to age properly before you cleaning it.
In many cases, you will want to keep the natural brown to dark gold color of the teak. To do this, you will need to oil the teak annually. Doing this from the start will help you to maintain the natural honey tones of the wood.
How to Clean Teak
Cleaning teak wood is an easy process. Teak must be completely clean prior to oiling it or it could stain after oiling.
Quick Cleaning
Simply use a soft cloth and a solution of warm water with a few drops of mild dish detergent in it. You can clean off most debris in this manner. If you have not been cleaning your teak as you should, it may take a bit of extra elbow grease to get rid of stains.
Heavy Duty Cleaning
Teak that has mold and mildew can be cleaned with T.S.P. (Tri-Sodium Phosphate). TSP is a cleaning product available as a powder in most home improvement stores.
To clean it quickly, assemble:
Bucket
Scrub-brush (Not a wire brush)
Rubber gloves
Make your cleaning solution following the TSP instructions. Dip the scrub brush in the cleaner and begin scrubbing the wood. It may take 10 or 15 minutes to get the teak clean. As long as you are using a regular plastic scrub brush the teak won't scratch. Rinse the teak completely with clean water to remove the T.S.P.
Oiling Teak
Oiling helps to preserve teaks finish and repels future staining from dirt, mold and mildew. You will need to invest in a teak oil, which can be found in most home improvement stores. Teak oil is usually linseed or tung oil, combined with resin.
Linseed oil is the less expensive option and make your teak slightly darker than its natural color.
Tung oil is more expensive, but it keeps the color true and is more water resistant than linseed oil.
Teak oil will form a protective layer over your wood and helps your teak to continue repelling water. Always use common sense when oiling your teak furniture. Teak that hasn't been taken care of will obviously need more oil than teak that is in good condition.
Oil is applied using a paint brush and takes several coats. The oil will be absorbed quickly into the wood when you start painting it on.
You will need to apply several coats of teak oil, allowing the oil to absorb completely in the wood before applying the next coat.
Some people wait twenty four hours before applying the next coat of teak oil, but one hour is generally sufficient.
Depending on how "dry" the teak is, it may take three to four coats of oil. As the wood becomes saturated with the oil, it will stay on top of the surface of the teak. This usually happens about the second or third coating of oil.
Wipe off any excess oil with a cleaning rag. Keep applying the oil and wiping up the excess until the wood no longer absorbs further oil.
The result should be beautiful teak with no shiny spots, just a matte finish.
It may seem like a lot of work, but maintaining your teak furniture is well worth the effort. Cleaning and oiling teak will prolong its life, which means you will rarely have to replace it.