Laundry 101: Part 3 – Brightening Whites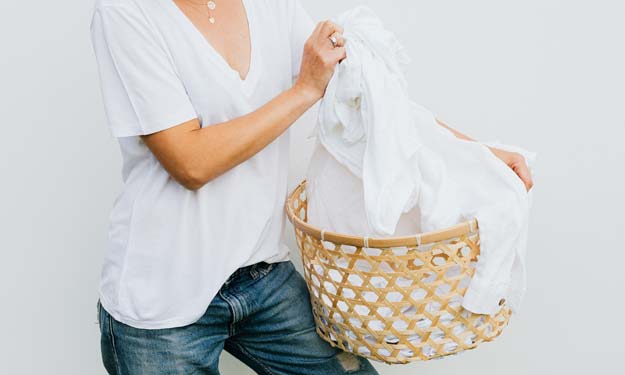 Everything Your Mom Didn't Tell You about Getting Your Clothes White
Brightening white clothing is a little more than dumping a bunch of bleach in the wash. Bleach works well to brighten whites, and works great on cotton, but it can also ruin your clothes if not used properly.
Chlorine bleach is highly alkaline, and an oxidizer. Bleach is corrosive to many things- skin, eyes, and organic material. It reacts chemically with some other common cleaners, as well. Because of those risks I avoid chlorine bleach unless it's really needed and it's the only product that will do. (In some cases, it's the best product to use.)
Whites should be separated from colors prior to washing to prevent color issues. There are several methods for achieving whiter whites.
It's important to know the difference between all the brighteners, and use whatever is best and what is effective for the clothing you are washing.
Brighten Whites Using Chlorine Bleach
Liquid chlorine bleach in the bottle is a 5.25 percent sodium hypochlorite solution. Chlorine bleach is an oxidizer that removes many stains from cotton fabric and does a very nice job brightening whites. Chlorine bleach kills germs, bacteria, viruses, disinfects, sanitizes, and removes mold, mildew and odors.
You might find it interesting to know that bleach does not remove stains; it only removes the color of the stain. So technically, the stain solids may remain, you just can't see it.
Chlorine bleach is a strong cleaning chemical and it should be used carefully.
As I mentioned earlier, bleach is highly corrosive, so avoid contact with eyes, skin and mucus membranes.
Work in a well-ventilated area, avoid breathing fumes.
Avoid contact with metal. Bleach will permanently discolor stainless steel, metal spoons or containers.
Don't use bleach on fabrics made of silk, wool, spandex, urethane or polyurethane, permanent-press fabrics, acetate, polypropylene foam, flame retardant fabrics or rubber.
Never pour full-strength bleach into a clothes-filled washer.
Never mix bleach with ammonia which will result in the formation of toxic fumes.
Repeated use of chlorine bleach will weaken cellulose or cotton/ramie/linen fibers.
Repeated use of chlorine bleach will cause yellowing of fabrics.
Always check for color fastness first, following the instructions on the container, before using bleach.
Read and follow care instructions and any warnings on the fabric care label regarding the use of bleach.
Bleach starts to degrade after the bottle is opened. Replace after 6 months of opening for best results.
How to Use Chlorine Bleach
Bleach solutions need to be made fresh daily. Once diluted, bleach breaks down quickly-mainly into salt and water. (That's the sodium part in bleach's chemical name- sodium hypochlorite)
Chlorine bleach works best with cotton, ramie and linen whites in a hot or warm wash.
Add chlorine bleach to the bleach compartment, filling to the top of the max fill line. Do not overfill.
If your machine does not have a bleach compartment add 1/2 to 3/4 cup to the washer water, mixing well, before adding clothes.
Launder as directed.
Rinse thoroughly.
If results are not what you expected (stain has not lightened, etc.), further investigate appropriate cleaning solution to use to remove the stain.
IMPORTANT: NEVER MIX AMMONIA WITH CHLORINE BLEACH. A TOXIC GAS WILL RESULT DUE TO A CHEMICAL REACTION.
Brightening Whites Using Oxygen Cleaners
Oxygen cleaners (like oxy-clean) are similar to hydrogen peroxide, but in a powder form. They brighten clothing without the corrosive effects of chlorine bleach.
Follow the manufacturer's instructions, usually adding 1 cup per load in warm or hot water to revive even the most dingy white shirt.
Do not pour color-safe bleach into the bleach compartment. Add color-safe, non-chlorine bleach solutions to the detergent compartment, or where your manufacturer recommends powder should be added to your machine.
How to Brighten Whites Using Borax
To use Borax in the wash, add one-half cup of borax to each load to boost the cleaning power of the regular detergent. Add directly to the washing machine drum.
Using Borax as a Presoak to Whiten Dingy Whites
To whiten dingy whites, using a clean large plastic bin (I have one just for this purpose), add one-half cup of borax to every gallon of water. Add whites and allow them to soak for at least one hour (depending on what the item looks like, a longer soak may be better). Launder as usual.
Now that you know how to brighten whites, let's move on to Laundry 101: Part 4, Laundry Boosters and Water Softeners