Clean your Bathroom like a Professional Cleaner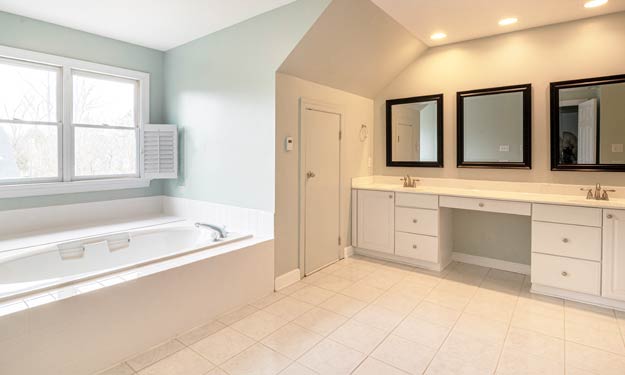 Professional Bathroom Cleaning Tips
A bathroom isn't just a place where you get clean. It can be a sanctuary where you can soak your troubles away. Big fluffy towels, soft music and perhaps a scented candle means that you can relax.
But not if your bathroom is dirty! Cleaning a dirty bathroom is not something to look forward to, but think of how happy you will be when the bathroom cleaning is over.
Cleaning the bathroom isn't much work if it is done correctly. If you wait until your bathroom is really disgusting, it will take you longer than if you do a regular upkeep.
Here are some bathroom cleaning tips straight from the maids at Mrs. Clean.
Cleaning the Bathroom
To get started, you should do a thorough cleaning of your bathroom. After this is done, all that will be necessary is regular upkeep and a good thorough cleaning once a month or as needed.
Have bathroom cleansers such as disinfectant and soap scum cleaners available before you tackle the job. It is a good idea to have all the products you use in one central location (we carry ours in a tote bucket) so that you can just go to it and bring it with you through the house.
Begin by picking up the dirty laundry and any garbage the kids haven't thrown away (as they should). Gather up the throw rugs, give them a good shake outside and leave them outside while you're cleaning to air out.
Clean Countertops, Mirrors and Sinks
Use a good glass cleaner to avoid streaks or make your own (recipe below). Spray antibacterial cleaner on the sink, faucet, towel holders, light switch and countertop then wipe down. Use a clean soft cloth to shine fixtures.
Glass Cleaning Recipe
1 cup distilled water
2-3 tbsp. white vinegar
1/4 cup rubbing alcohol
Adding rubbing alcohol will help the glass cleaner evaporate quickly and reduce streaking and water spots. If you have a mirror that is in a frame, spray the cloth first then wipe down the mirror.
Cleaning the Toilet
For starters, I use things like a scrubbing brush or sponge (whatever your preferred method of cleaning the toilet is) separate from cleaning other surfaces. I never use something from cleaning the toilet on any other surface, toilets only!
Use a liquid toilet bowl cleaner (like Clorox toilet bowl cleaner with bleach) and spray all around the inside of the toilet bowl – edges and under the rim. Scrub the inside of the bowl then let sit for about five minutes before flushing.
After scrubbing the inside of the toilet bowl and while you wait, clean around the outside of the toilet. Spray the tank, rim, outside the bowl, the seat and the top of the toilet with disinfectant or antibacterial cleaner then wipe down and dry to avoid water spots.
Remember to clean the toilet brush caddy as well. You can take this outside, spray with disinfectant, let sit then rinse. Also, spray the brush with disinfectant, let sit a few minutes then rinse. Allow to dry then bring back inside.
Cleaning the Bathtub and Shower
Open windows or turn fan on to vent. To clean soap scum, spray tiles and tub with a heavy-duty cleanser like Tilex ® or Kaboom ®, let sit to work on the soap scum. Wait about 15 minutes and scrub until the mildew, soap scum, or dirt is gone.
Spray faucets, shower head, shelves, wash cloth holder, etc. and wipe down. If necessary, use an old toothbrush on shower head to clean around the holes. Shine chrome with a clean soft rag. My husband actually keeps a towel handy and after every shower, wipes down all the chrome to keep it spot free.
To help keep soap scum at bay, use a squeegee after each shower an be sure to use the fan.
Cleaning the Bathroom Fan
This isn't always something we think to clean, but it can get all kinds of lint built up along the edges. If it can be removed, let it soak in warm water and a little dish soap (like Dawn) then dry before putting back up.
While the vent is soaking, get a shop vac and carefully vacuum inside the fan area to remove lint and debris.
Mopping the Floor
Finish by mopping the floor and cleaning the floor vent covers. Use a 50/50 solution of white vinegar and water. Vinegar leaves no residue. It is a mold and mildew killer and also a natural deodorizer.
If you have marble floors, do not use vinegar as it can damage the floor. Use plain water instead.
If you haven't cleaned the floor in a while, wipe along the baseboards with a damp paper towel to pick up loose hair and lint.
Put the rugs back down that have been outside airing out.
Washing and Drying a Rubber Backed Floor Mat. Washing and Drying a Floor Mat with Rubber Backing Bath mats are standard items most of us use in our bathrooms. Many of us use the non-skid type...