Cleaning Bathroom Floor Tile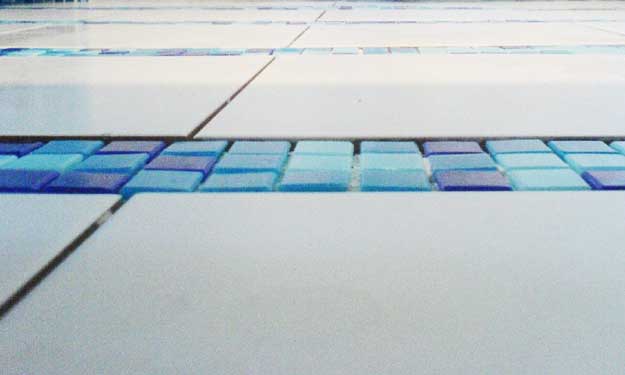 Cleaning Bathroom Floor Tiles
Of all the rooms in my house, I find the bathroom the least appealing to clean.
My white tile floors show every last bit of hair and dirt that seem to cling to everything. Of course, my hairspray helps to cement all of the dirt and debris to the floor.
Some people think the bathroom isn't clean unless they smell the strong odor of bleach or pine cleaning products.
I'm here to show you that there's no need to use heavy toxic chemicals to clean your bathroom floor.
There are natural cleaning solutions that you can use to clean and sanitize your tile floor and as a bonus, the bathroom will smell naturally clean!
I've cleaned 100's of floors, and I teach our house cleaners how to clean them too.
The good news is; I know just how to clean bathroom floor tile, and I'm going to tell you how to clean it up too.
Are you ready then? Let's get busy cleaning!
A Sweep a Day Keeps the Tile Man Away
Sweeping (or vacuum if you prefer) is the single most important step to cleaning tile floors.
We carry canister vacuums at our cleaning company and vacuum the bathroom floor to pick up all the hair and dust bunnies that are scattered about.
Removing the surface dust and dirt is an important step to getting the floor clean.
If you don't, your floor will be a nightmare to clean with a mop or sponge and the debris will end up in the corners creating a nasty build-up over time.
My Secret Tile Floor Cleaning Solution
My best tip for deep cleaning most hard surface floors is much simpler and cheaper than many people would believe.
Plain White Vinegar!
Yes, vinegar is my cleaning secret. It's the best solution for the job.
Mix up;
1 gallon of hot water
1 cup of standard white vinegar
I use this vinegar solution to handle the deep cleaning on my linoleum, and wood floors too. You can use either a sponge mop or a standard cotton mop, or even a regular cleaning rag. There's no need to worry because vinegar is nontoxic.
Because vinegar is acidic, it's great for removing dirt, stains and will even cut through grease AND hairspray! Plus, vinegar's a natural disinfectant and deodorizer.
The vinegar smell, by the way, dissipates rather quickly and just leaves the place smelling clean once it's gone.
I don't recommend vinegar for marble or stone floors, however. For these, it's best to use a manufacturer-recommended cleaning solution or just straight water.
Heavier Duty Cleaning
If your floor hasn't been cleaned in a while or if one of the kids decided to step in a mud puddle before coming into the house, add a few drop of gentle liquid dish detergent to the bucket and mix well.
Try not to add any more than a few drops. If you do, you'll run the risk of putting too much soap on the floor, which will take much longer to rinse.
Getting Down with Your Mop!
You've got your cleaning solution prepared, but you need to get another bucket with warm water to use as a rinse bucket.
Start mopping from the back of the room, working your way out towards the door.
Dunk your mop in your cleaning solution and wring out the mop to remove excess liquid.
Run over the tiles a few times, and don't ignore the hard to reach areas. If they're hard to reach, they're also the dirtiest. Repeat as necessary.
If your mop does not fit behind something – go in with sponges blazing.
Cleaning Dirty Buildup on Tile or Grout
My bathrooms have light grouting in between the tiles, so I use an anti-bacterial spray with a sponge to clean away any unsightly dirt build up while killing all the germs.
Removing mold and mildew or other stains:
1/4 cup bleach
3/4 cup water
Removing soap scum or other build up:
1/2 cup salt
1/2 cup baking soda
1/2 cup water
1 Tbs. liquid dish washing detergent
It's always a good idea to test any cleaning solution you use in an out of the way spot first to make sure it won't damage the floor.
Keeping Your Bathroom Floor Tiles Clean
Here are a few tips to help keep your bathroom floors clean and sanitized:
Use an area rug at the entrance of the bathroom to avoid tracking in extra dirt and grime from shoes.
Add an absorbent rug in front of the bathtub or shower to stop the floor from getting wet.
Always keep a window open to prevent mold from growing. If you don't have a bathroom window, make sure the fan is on while showering.
Sweeping and mopping weekly will stop grime from building up and help to keep the bathroom clean and mold and mildew free.
Mopping the floor with vinegar with a clean rinse really does make all the difference to keep your bathroom tile floors shining.
While I can't say I love to clean the bathroom floor, at least I know I'm winning the battle with the right tools and cleaning equipment.
Good luck!