Cleaning Glass Tiled Surfaces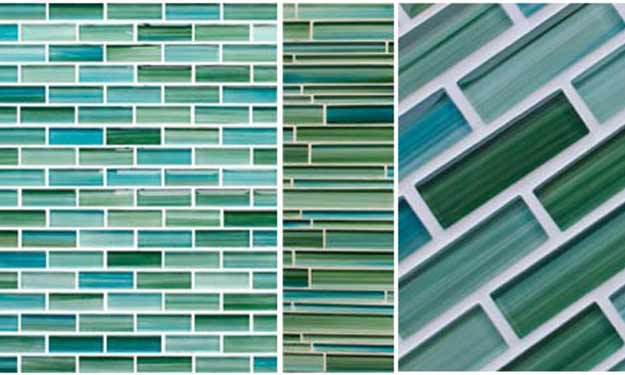 Maintaining the Beauty of Glass Tiles
Glass tiles have come a long way and aren't just tiles used for a flashy backsplash anymore. They are quickly gaining in popularity compared to ceramic tile because of their unique appearance.
These tiles can be used in just about any room of the house (and outside the house) and come in many different colors and a variety of beautiful designs.
Glass tiles are durable and offer a rich quality and shine. They are opulent, resistant to staining, and easy to wipe clean. That being said, glass tiles make it easy to see fingerprints and footprints. Because of this, more frequent cleanings are needed to maintain a gleaming surface.
Generally glass tiles are easy to clean and maintenance is minimal when cared for properly. But there are some surfaces that don't always get the attention necessary to keep them clean.
Regular Cleaning of Glass-Tiled Surfaces
Because glass tiles do not absorb water, they are relatively easy to care for. Since it is an impervious material, glass is also resistant to bacteria, mold, and mildew. If used in places like a shower, though, they are subject to soap scum and other mineral deposits.
Cleaning them on a regular basis with a non-abrasive cleaning agent or glass cleaner will keep the natural beauty of the surface shining through.
You can also use a squeegee or your bath towel to remove water from the shower walls to help reduce water spots and hazing.
Removing Soap Scum from Glass Tiles
In a spray bottle, mix equal parts of warm water to white vinegar. Spray the solution on the glass tile surface and let sit for 10 minutes.
Use a soft bristle brush (a soft brush will help avoid scratching) to clean the tiles and grout. Rinse with clean water and wipe down with a soft cloth or towel to avoid streaking or water spots.
This will also work for hard water and other mineral deposits.
Cleaning Grout between Glass Tiles
If you notice that molding on the grout is starting to happen you shouldn't have any problems using any standard bathroom grout cleaner.
You can also mix together in a spray bottle:
1/4 cup bleach
3/4 cup water
Spray the grout and use a soft bristled toothbrush to clean it. Rinse with water and when you're done dry the tiles.
Cleaning a Kitchen Back Splash
If you've installed a glass back splash in the kitchen, it shouldn't be any harder to keep clean than a glass-tiled shower.
Fill a spray bottle with warm water. Add a 1/2 teaspoon of Dawn dish detergent. Swirl the bottle to mix the dish soap (not so much that all you have is suds) and spray the back splash. You can also put this mixture in a bowl, whatever is easiest for you. I happen to use a bowl because I find it easier to dip and wring the cloth.
Wipe down with a damp cloth or sponge. Rinse cloth or sponge as needed.
Using a clean cloth, wet with cool water and wipe down the back splash.
Dry when finished.
Cleaning a Heavily Soiled Kitchen Back Splash
If the kitchen backsplash is heavily soiled with grease, mix the following in a bowl:
2 parts warm to hot water (not so hot you burn your hand)
1 part detergent (like Dawn)
Use a cleaning rag or a sponge to wipe down the tiles. Clean the rag or sponge as needed.
When you have finished removing the grease from the back splash, use a clean rag or sponge then rinse with cool water.
You may have to rinse a few times to remove any soapy residue or after the initial rinsing you can use a mix of white vinegar and water or a glass cleaner to remove the remaining residue.
Dry when you're done.
If you are cooking foods that splatter, cleaning the back splash when you're done will help keep it from getting so greasy.
Maintaining Glass Tile Surfaces
Maintaining glass tiles is not much different than other tiled surfaces.
Wipe up spills as they happen. Not only because it's a good practice to do this but also to help grout from staining.
Wipe surfaces after cleaning to keep your glass tiles looking shiny and as good as when they were installed.
Be mindful of sharp objects so scratching doesn't occur.
One of the things I like about glass tiles is they look amazing no matter if you're using them alone or mixed with other tiled surfaces.
Maintaining the beauty of glass tiles is pretty simple and when done right, they'll have a bright, shiny surface for years to come.