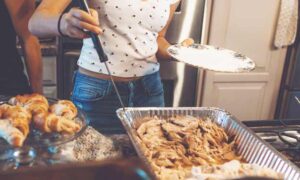 Cleaning up Thanksgiving Holiday Spills and Stains
You know any time you get family and friends together, spills and stains are bound to happen. Right?
Spills and stains happen in my house with just about every gathering we have. I stopped stressing over it years ago, I can't change the inevitable.
I decided I'm not going to follow everyone around with a rag to clean up stains or a spoon to pick up spills (no one knew that's what I was doing though, they would have thought I was crazy!).
If I noticed the spill, I'd attend to it, otherwise, I'd catch it the next day.
My advice to you – try and relax a little. Thanksgiving is about family, so why stress about it overly much beforehand?
Below are the most common foods and drinks shared for Thanksgiving dinner and how you can clean them – should they get spilled.
Read More