Removing Odors and Stains with Cat Litter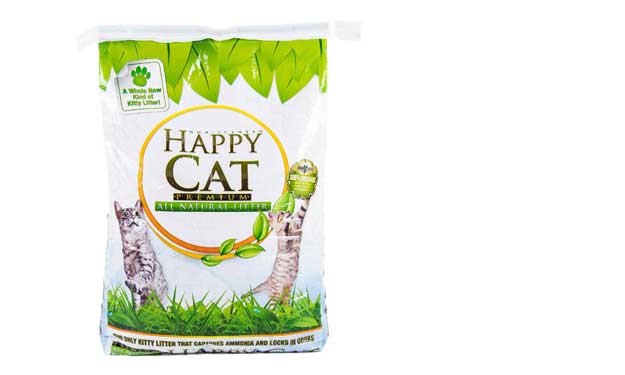 How to Remove Odors and Stains with Cat Litter Clay
I have been a cat owner most of my life, so kitty litter is a necessity in my household.
Even though I've purchased litter regularly for my fluffy feline companions, I was still surprised years ago, when my friend told me she used fresh cat litter to deodorize her home.
My go-to deodorizer has usually been baking soda. It works really well at neutralizing unpleasant odors, which is why I was a little skeptical when she told me how well cat litter worked. My first thought (and maybe yours) was that: it seems that no matter how hard I try to clean the litter box, I can never seem to remove all the odors coming from it, right?.
So, just like the natural born scientist I really am, I went home to conduct my own experiment on whether or not kitty litter is an effective deodorizer.
And the results:
Pure, refined clay (such as in kitty litter) absorbs and removes impurities and really works to remove stains and odors. It's the same way clay face mask products work on skin. As the clay dries, it draws out impurities and oils and leaves your skin clean- so, Kitty litter is an effective deodorizer and can help remove stains. Whodathunkit!
I was able to remove odor and clean up stains from items I had not thought could be cleaned.
So, whether or not you're a regular when it comes to the pet-aisle at your grocery store, I recommend you grab yourself a scoop or two of pure refined clay and read on to discover the amazing deodorizing capabilities of this common household product.
The Best Type of Cat Litter to Use
I found that non-clumping, unscented cat litter did a much better job at deodorizing around my home, and it's usually less expensive than the clumping kind anyway.
Actually, the more basic the cat litter, the better. The active ingredient which makes cat litter such an effective deodorizer is pure, refined clay.
I'd go for the cheapest cat litter that is as close to the natural clay product as possible. I'd also avoid using any with added scent or silica or baking soda, but if you already have litter, any kind should work fine without harming anything…so give it a try.
Removing Odors in the Refrigerator
If your refrigerator smells a little funky, pour fresh kitty litter into an open-top container and then place the container in the center of your fridge.
Replace the litter in the refrigerator weekly, and regularly. If you are a cat owner, don't waste the litter that was in the refrigerator, reuse the litter by tossing it into your cat's box to get your money's worth!
Removing Odors in Garbage Cans and Trash Compactors
Garbage cans can stink to high-heaven, but kitty litter can stop odors fast. Odors usually come from foul liquids that have spilled and the clay in the kitty litter will absorb the liquid fast and neutralize the scent.
Sprinkle litter in the bottom of your garbage can and trash compactor, as well as inside the plastic liner.
Replace the litter in the bottom of your garbage can or trash compactor weekly (or whenever it becomes damp) for the best results.
Removing Odors from Smoking and Ash Trays
Have you ever looked at the large cigarette receptacles located in airports and other buildings with a high volume of traffic? Those large 'ash trays' are filled with clay pellets… which are just the same as using kitty litter.
To neutralize the air around your ash tray, just fill it with kitty litter. After you are done smoking your cigarette or cigar, put it out in the litter. It works really well for several reasons:
Absorbs odors and stops the stink!
Puts out cigarettes immediately.
Physical properties of clay block air flow so cigarettes will not smolder.
You'll notice immediately the smell of smoke doesn't linger around the used butts, which means the air you are breathing is healthier for you and those around you.
Removing General Dampness and Reducing Musty Smells
Litter will absorb the moisture which can prevent or reduce future mold and mildew from growing. If there is an area of your house that has a moisture problem and reeks of mold and mildew, sprinkle cat litter in the area for a quick-fix.
Sweep, vacuum or replace the litter whenever it becomes damp, or as needed.
Reducing Smelly Carpet Odor
Damp carpet can smell bad and develop a moldy smell.
Simply sprinkle clean cat litter on the carpet and vacuum it up the next day to remove the bad smell.
Make sure that you thoroughly remove all of the litter. Remaining pellets that are allowed to become over saturated will make a muddy mess.
Removing Spills and Greasy Oil Stains
I would be negligent if I didn't mention that kitty litter is also an amazing absorber of liquid, including oil stains.
The gas stations in my neighborhoods usually have a nice oil-free roadway where people drive up to fill up their car. I asked them what they used to remove oil spots, they told me that they sprinkle regular kitty litter on the oil stains and sweep it up about an hour later.
This works great anywhere oil has spilled- In the garage, by the barbeque, on the kitchen floor. No fuss, no muss.
Viola~ Problem solved! This really works well!
Make Your Own Cool Deodorizers to Place in Small Spaces
It's no secret that cat litter can be messy. Whether you are using it for traditional purposes or for its deodorizing capabilities, it always seems to get everywhere! Well, there is a way reap the odor neutralizing abilities of litter without the mess.
How you ask?
Why, Socks. I answer.
Yes, you heard me right: socks.
Honestly any kind of socks, pantyhose and tights…whatever you are comfortable sacrificing for an odor-free home will work just fine. These kitty litter deodorizer bundles are easy to make, require no clean up, absorb moisture and reduce odor.

So, to do this:
Gather as many unused socks, pantyhose, tights, etc. as needed.
Fill each foot covering with anywhere between half a cup to two cups of litter (it all depends on where you plan on storing them).
Close the top of the foot covering by making a knot or tying a piece of string (Tightly!) around the opening.
Removing Odors from Shoes
To remove odor from your favorite footwear, put a bundle in each shoe and then place your shoes inside a plastic bag. Tie off the plastic bag and keep your shoes in the bag for two to three days.
Removing Odors from Books and Papers
Place your old, musty books and papers inside a container (box, trunk, chest or bag) and then place a kitty litter bundle inside. Let sit for a couple of days and then give it a sniff!
Removing Odors from Campers, Tents and Sleeping Bags
To protect your RV from moisture and that "off season" odor, place a kitty litter bundle or two inside your camper. You can hang them and/or place them in drawers to draw moisture and remove the odor.
You can also protect all your camping equipment when not in use by storing a bundle inside sleeping bags and tents. This will ensure you won't be forced to sleep in a musty-smelling sleeping bag or tent when the time comes. Neutralize odors and ward off any moisture from accumulating inside by planning ahead.
Removing Odors from Baseball, Boxing or Any Sports Gloves
The moisture that can build up inside of your baseball, boxing, football… in fact any sport gloves….. makes them smell less than appealing. In fact, my son's football gloves smell quite revolting! To remove the odor (or prevent it from occurring), place a kitty litter bundle inside each glove when not in use.
Removing Odors from Purses, Handbags and Backpacks
To keep these items dry and smelling fresh, store a bundle inside and then zip the item shut. You can remove the litter whenever, but I keep it stashed in a pocket for 'round-the-clock deodorizing!
Enjoy Your Purr-fect Smelling Home
Cat litter is a cost-friendly deodorizer and a great alternative to baking soda. Plus, it works just as well – if not better – than the expensive products you see in stores. So don't lose hope when dealing with an odor in your home. Achieve the results you've always wanted using simple cat litter! Meow!