Kitchen Storage Ideas for Small Spaces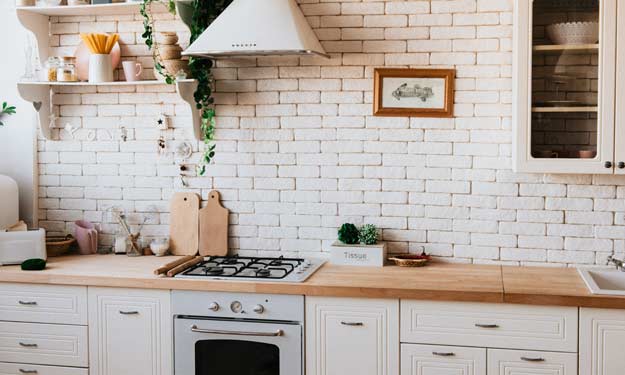 Getting Creative in a Small Kitchen
If you live in a small home or apartment and are limited on kitchen storage, have you thought about looking to your vertical space for additional storage options?
This can be a creative way to utilize wall space to store pots and pans, utensils, accessories, etc. If this is something you are open to, here are a few ideas that might be a solution you can work with:
Steel Scaffolding Pipe
You can find these reclaimed steel scaffolding pipes in a salvage yard and possibly a local antique shop. If you have that industrial vibe going on in your décor, this can add a nice little pop of interest to a wall. You can use S-hooks to hang your pots and pans.
Old and Rustic Picket Fencing
If you've got a little country charm going on in your home a rustic old piece of reclaimed picket fencing can be used to hang your pots and pans. Look for fun coat and hat hangers to attach to the fencing to hold pans and accessories.
If you can't find a piece of old fencing, take a look at your local big box craft store as they have all sorts of great finds.
Wood or Metal Pegboard
Pegboard can be found in sheets of wood or metal. You can find these in your local Home Depot type of stores and they can cut them down to size for you as well. If industrial is your style, the metal pegboard might be a good option for you. Wood pegboard can be painted to match the colors of your décor.
There are accessories you can find for pegboards like hooks and baskets that can be used to hold pots, pans, cooking utensils, herbs and more.
Shelving
There are many shelving options available as well – free standing or sturdy shelves for hanging on a wall. If you have kitchen appliances of a particular color, it can be a nice way to display them and matching baskets can hold pantry items.
If counter space is limited, shelving can hold the microwave, toaster, and you can create a nice little nook for holding wine bottles and glasses.
Towel Rail and Hooks
If you like to grow some of your own herbs, have you thought about using a towel bar? They come in many finishes and sizes. Hang these in an area that gets plenty of sunlight streaming through the window or across the window itself.
You can use steel hooks to hold decorative metal baskets and buckets for your kitchen herb garden.
Just because you have a small kitchen does not mean you can't overcome the storage issue. There are many creative ideas and these are just a few.
Tips for Keeping the Kitchen Clean and Fresh.Effective Ways to Clean Around the Kitchen For all the time we spend cleaning around the house, have you ever wondered if there is something you can do differently that...