Removing Stains and Polishing Wood Furniture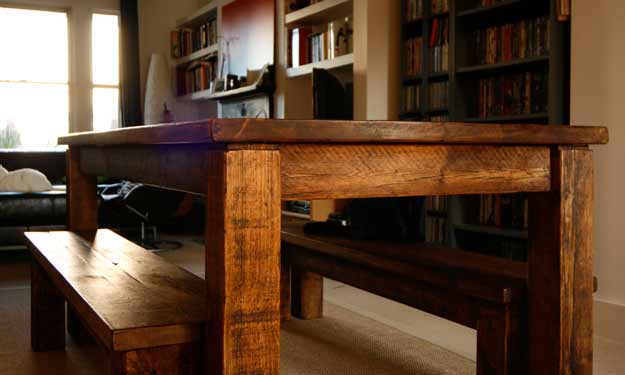 Removing Stains and Polishing Wood Furniture
Wood is an investment. If you buy any wood furniture for your home, you are likely investing a small fortune. The quality, materials, style, toughness, and the craftsmanship make it a worthy purchase, not matter if it's a new piece or old. For that reason, taking care of your wood is essential.
Tender loving care makes wooden furniture last well beyond its years. For the most part, wood furniture takes care of itself and just needs dusting but there may be times when a good polishing is in order to revive it's appearance and remove any stains.
I have some easy and effective tips on how to care for and protect your wood furniture from stains. If you choose to follow them, your furniture's natural beauty will be restored and will stay beautiful longer than ever.
How to Polish Wood
Polishing wood furniture makes a piece shine that you're proud to showoff and it can also help extend the life of the piece.
If there is a build up of wax or you just found a spectacular piece of furniture at a sale, you should first remove the old wax by using a non alkaline soap mixed with water, for instance you could try 1/4 cup Murphy Oil Soap to 1 gallon water, before giving it a new coat of polish.
When you're ready to polish your wood piece, select a high quality furniture polish.
How Often do you Polish Wood Pieces?
Polishing your furniture can be done weekly, especially if the piece is used often as with each cleaning, wipe down or scrubbing, it can remove polish. Another option would be for you to wax your furniture with a paste style wax every six to twelve months as needed.
Types of Polish
Furniture polish can be found in home improvement stores, but hold off on buying one. You need to know the type of wood and the color of the wood before you polish your wood furniture.
Dark Wood
If you have dark wood furnishings, then you will want to find a wood or shoe polish that will match the lightest shade of the finish. If your furniture is scratched, you can also use Walnut or Brazil nut meat. Rub it in the direction of the scratch.
Cherry Wood
Woods that have a cherry finish need a bit of a different solution. You can use a wood or shoe polish that has the right color of red. If there is a scratch that is noticeable, consider getting some darkened iodine and use a cotton swab to put it onto the stain to hide it. Make sure that the colors match well here.
Light Woods
You can use wood or shoe polish to help you to cover light wood colored stains. You can also use darkened iodine that is diluted by 50% with isopropyl rubbing alcohol.
Note: If you use the shoe polish, it only takes a little to get the job done. All you need is a small amount of a wax shoe polish then buff it in with a soft cloth.
There are a variety of brands that come in colors for the wood you have. Old English, Minwax, Howard Feed and Wax are just a few to look into.
Removing Stains from Wood Furniture
Wood furniture often is more susceptible to stains because it will absorb the stain quickly, which means you need to work quickly and carefully to treat these stains in order to protect your wood in the long run.
If you do not feel you trust a cleaning method, consider having the furniture refinished by a professional.
No matter what treatment you use, you should always test the treatment on a hidden spot on the furniture to make sure that it will not ruin your furniture.
Cleaning Water Marks
Water marks happen when a glass is left to sit on a piece of furniture when a coaster is not used. What you will see is a cloudy white or light colored ring. Most often, it is not the wood that is damaged but the wax or finish. If you see a dark colored ring, that could mean that it has reached the wood and the piece may have to be refinished.
Iron the Stain Out
Use a clean cotton cloth and place it over the stain.
Apply a warm iron (low setting should be good enough) to the cloth. Just run the heated iron over the water mark for about 3 to 5 seconds.
Lift the cloth to check your progress and repeat if needed.
This method can also work if you have a large cloudy white area that may have been left behind from hot dishes if a pot holder wasn't used.
White Toothpaste
You can also use white (non-gel) toothpaste as another option for removing water marks.
Apply a little toothpaste to a clean rag.
Gently rub onto the stained area.Try and stick to just the water mark area.
Wipe away any remaining toothpaste when finished.
Cigarette Burns
Use a scratch concealing polish working it into the grain.
Heat Marks
Run along the grain. Use a dry steel wool soap pad or a cloth that is dampened.
Paint Marks
If you've been painting and after the fact notice you've gotten paint spatters on wood and it's fresh, you can almost always remove the paint by using a damp cloth and warm water.
If the paint is latex and has dried try carefully rubbing with isopropyl alcohol. It will take some time but this could work for you. It may even soften it a bit so you can use something like a putty knife to remove the spatters.
If the paint is an oil based paint, you can try just a bit of mineral spirits but not too much as it could damage the wood.
Again, if you are unsure about trying any of these methods, call in a professional.
Make sure to properly wax or polish the furniture after you have cleaned and removed any stains.
There you go. We've gone over some of the most common stains and how to choose the correct polish for your wood furniture.