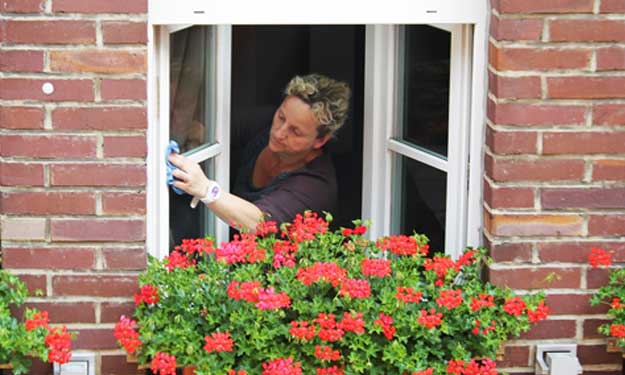 Homemade Window and Glass Cleaner Recipes
I know that cleaning windows is a chore we sometimes put off but clean streak-free windows do make your space bright and cheery!
Making your own homemade window and glass cleaner is relatively inexpensive and just as good or better than the products you buy in the store.
As a matter of fact, you may very well have most of the items you need on the pantry shelf and if you haven't played chemist since your sophomore year in high school, following one of these recipes will surely bring back fond memories.
So, let's find out how we can naturally eliminate dirty fingerprints, grime and dirt.
Natural Cleaning Recipe Using Vinegar and Water
White vinegar is a powerful acidic cleaner that dissolves dirt, grease and grime. It's a natural ingredient in homemade products that your grandmother may have passed down to your mom and mom to you.
It's an all-around great all-purpose household cleaner. It's also non-toxic, which means it's safe to use around children and pets.
To make your own window and glass cleaner with white vinegar, mix the following in a large spray bottle.
1 cup distilled white vinegar
1 cup water
1 spray bottle
1 label
That's it. A 50/50 mix of both. After cleaning, dry thoroughly with a lint-free cloth or microfiber cloth.
I like adding about 10 drops essential oil to the mix for a nice scent. Although the vinegar smell dissipates quickly, the essential helps cut the smell.
Using Ammonia, Rubbing Alcohol and Dish Soap
If you've been using a commercial window cleaner, you may not know it but they can leave behind a film on windows and glass.
The first time you use a natural homemade cleaner will require a little extra cleaning power to remove the film. This is a great recipe for just that.
8 cups water
16 ounces rubbing alcohol
1/2 cup non-sudsy ammonia
1 teaspoon Dawn dish washing liquid
1 spray bottle
1 label
In a gallon container add 6 cups water, rubbing alcohol and ammonia. Shake a little to mix ingredients, add in the Dawn dish soap and the rest of the water.
Gently shake to mix ingredients then pour into spray bottle.
Rubbing Alcohol and Vinegar to Clean Windows and Glass
Here's another recipe to try that can also cut through dirt and grime and the rubbing alcohol evaporates quickly reducing the chance of streaks.
3/4 cup rubbing alcohol
3 Tbsp white vinegar
1 cup water
1 spray bottle
1 label
Make sure to label all spray bottles after making the cleaning solutions and keep out of the reach of children.